Art Cologne 2014
Dike Blair at booth Linn Lühn, Düsseldorf
Florian Meisenberg at booth Wentrup, Berlin
Grayson Revoir at booth Jan Kaps, Cologne
Michail Pirgelis at booth Sprüth Magers, Berlin, London
Tatiana Trouve at booth Johann König, Berlin
Paul Cowan and Tony Lewis COLLABORATION at booth Shane Campell, Chicago
David Ostrowski at booth Peres Projects, Berlin
Liam Gillick at booth Kerlin Gallery, Dublin // all images by artfridge // Courtesy the galleries // © the artists
"The white colour on the painting has a different tone, than the one on the wall behind it," a galerist explains a curious visitor, who was interested in the artist's motivation to present a blank canvas at the art fair. Its official: The new minimalism hit its peak. This is one of the most predominant trends, currently displayed at the 48th edition of
ART COLOGNE
: From predecessors, such as
Günther Förg
(Galerie Bärbel Grässlin) and
Imi Knöbel (
Galerie Nächst St. Stephan), to current emerging artists, such as
Sergej Jensen
(Galerie Neu),
David Ostrowski
(Peres Projects),
Michail Pirgelis
(Sprüth Magers) and
Paul Czerlitzki
(Laurent Godin) – minimal and beautiful, physically scant and reduced wall objects are setting the tone of the fair's contemporary segment in 2014.
Speaking of wall objects – the transgression from two into three dimensionality is an aesthetic decision, that several represented artists employ. Cornelia Baltes (DREI), for example, placed her red, luminous canvas on the booths floor and supports the object with a stone. Jonas Maas (Figge von Rosen), who received additional space in his NEW POSITIONS solo booth, applied three large grid-objects on the wall and covered them with colourful plates in different shapes and forms, causing them to step out of the flat wall. And also Henrik Olesen (Galerie Buchholz) made use of the interface between painting and sculpture, by adding a flat iron in a cardboard box underneath his paper collage. The crossing of these thresholds causes a doubt the notion of particular genres, allowing the hybrid-works to appear as on-site installations rather than static objects. This is most obvious in Tatiana Trouvé's bronze pillow installation, which is squeezed between the wall and a black collumn at Johann König's booth.
221 galleries participate in the current edition of Art Cologne. Only half of them are German – a positive development thanks to director Daniel Hug, who has increased the fair's (contemporary) relevance immensely. This might also be the reason why both, Galerie Esther Schipper and Contemporary Fine Arts, two significant German galleries that are based in Berlin, returned to this year's fair after a long pause.
While the original model for the fair's two-year-cooperation with the New York's New Art Dealers Alliance (NADA) stopped, Art Cologne introduced a new segment called COLLABORATIONS – a mixing of NADA galleries and patrons, of artists and curators. Each couple could choose independently how to realise the cooperation, in order to highlight the benefits of a collaborative practice. Obviously being able to get a much cheaper spot, most couples shared their space in a relatively conservative manner. A very exciting project was created by the Chicago-based gallery Shane Campell, who showcases a collaborative working process of
Paul Cowan
and
Tony Lewis
. Layering their works on top of each other and neatly next to each other, this booth clearly deserves special attention for its outstanding concept. Another successful collaboration takes place between the Cologne-based newcomer gallery Jan Kaps and Bergamo-based gallery Thomas Brambilla, who both share the representation of American artist
Grayson Revoir
. Covering the head wall of their shared booth, Revoir placed four large, nailed down wooden panels on the wall, revealing a poster saying "Erotic Messe" (Erotic fair).
Besides the COLLABORATIONS, another new feature of this year's Art Cologne is the introduction of FILM COLOGNE – a 9 hour program of selected, prominent and avantgardistic art videos from the past and the present, curated by
Alec Crichton
, curator of the broadcaster SOUVENIRS FROM EARTH. The exciting part: the program is broadcasted live on cable TV and also accessible via online stream at
www.sfe.tv
, thus opening the movies to a larger audience. The fair's dedication to the moving image is however not only apparent in the new segment, but also in the raising dominance of video art in several gallery booths. A pleasant development, that is enhanced by the curated video-exhibition "Eden was never so close" of city's media art academy Kunsthochschule für Medien (KHM).
To sum up, Art Cologne – the world's oldest art fair – slowly manages to transform an art fair into an accumulation of many small and high quality exhibitions, while simultaneously remaining a classic fair. Eden or not.
10.-13. April 2014
Day Ticket: 25€ / 20€
Opening Hours: daily 12h-20h / Sunday 12h-18h
Koelnmesse
Messeplatz 1
50679 Cologne
Germany
Paul Czerlitzki at b
ooth Laurent Godin, Paris
Berhard Pffaretti at booth Klemms, Berlin
Daniel Gustav Cramer and Kris Martin at booth Sies + Höke, Düsseldorf
Marcel Dzama at booth Sies + Höke, Düsseldorf
Cornelia Baltes at booth DREI, Cologne
Claire Fontaine at booth Galerie Neu, Berlin
Florian Baudrexel at booth Lullin and Ferrari, Zurich
Brock Enright at booth Kate Werble Gallery, NYC
Pia Schauenburg at booth Kunsthochschule für Medien, Cologne
Reinhard Mucha at booth Sprüth Magers, Berlin, London
Sayre Gomez at booth Parisa Kind, Frankfurt am Main
Sergej Jensen at booth Galerie Neu, Berlin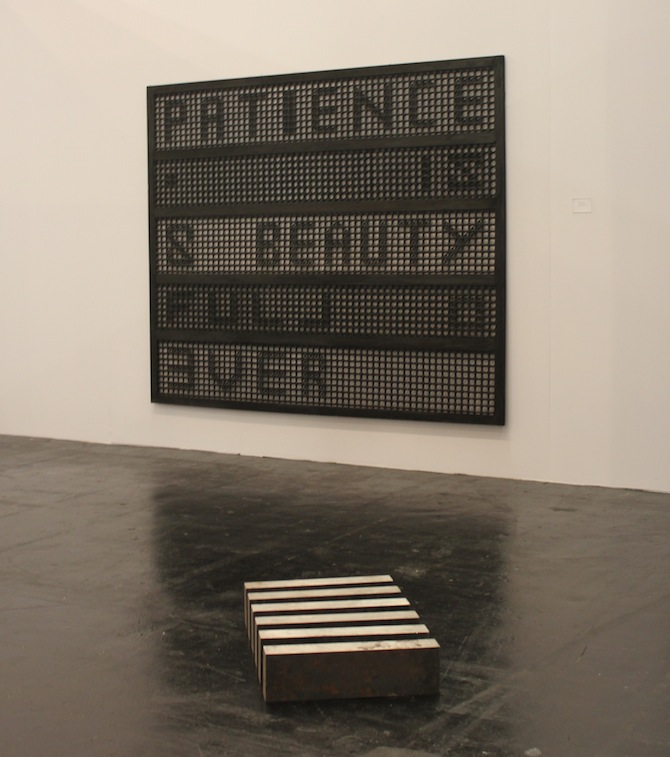 Susan Hefuna at booth Galerie Anne de Villepoix, Paris
Sylvie Blocher at booth Nosbaum Reding, Luxenburg
TAL R at booth Contemporary Fine Arts, Berlin
Gert und Uwe Tobias at booth Contemporary Fine Arts, Berlin
Monika Sosnowska at booth Galerie Gisela Capitain, Cologne, Berlin
Michael Budny at booth Galerie Nächst St. Stephan Rosemarie Schwarzwälder, Vienna
Lone Haugaard Madsen at Galerie Nagel Draxler, Cologne, Bonn
Kader Attia at booth Galerie Nagel Draxler, Cologne, Bonn
Keith Allan at booth Jan Japs, Cologne
Kaspar Sonne at booth V1, Copenhagen
Jonas Maas NEW POSITIONS at booth Figge von Rosen, Cologne, Berlin
Ignacio Uriarte at booth Figge von Rosen, Cologne, Berlin
Johannes Wohnseifer at booth Johann König, Berlin
Booth COLLABORATIONS Nanzuka Japan and Warhus Rittershaus, Cologne
Alexander Wolff at booth Natalia Hug Gallery, Cologne
Joep van Liefland at booth Galerie Gebr Lehmann, Berlin, Dresden
Booth Esther Schipper, Berlin
Christoph Westermeier at booth Max Meyer, Düsseldorf
Javier Peres in front of Dorothy Iannone painting at booth Peres Projects, Berlin
Henrik Olesen at booth Galerie Buchholz, Cologne, Berlin
Heidi Pfohl at booth Kunsthochschule für Medien, Cologne
Günther Förg at booth Bärbel Grässlin, Frankfurt
Ai Weiwei at booth Alexander Ochs, Berlin, Beijing
Carsten Nicolai at booth Eigen and Art, Berlin, Leipzig //
all images by artfridge // Courtesy the galleries // © the artists