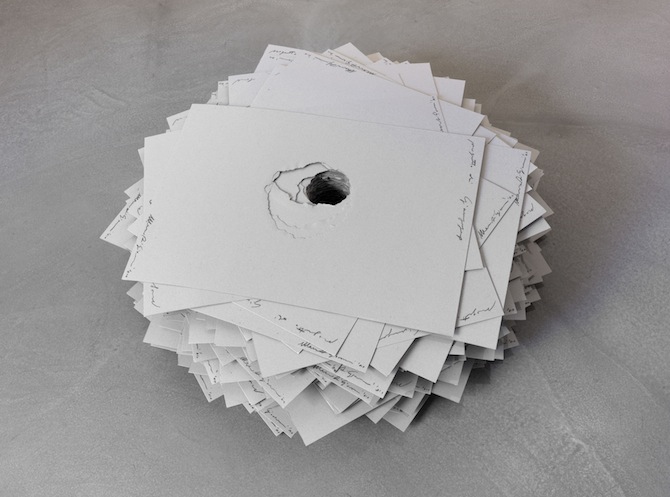 from the top: (1)"Projects of Ginnungagap", (2,3) "Stars Like Rust" by Marco di Giovanni, copyright and courtesy the artist
Last year, during the Contemporary Istanbul Art Fair, I met the Italian artist
Marco Di Giovanni
, who told me about his current, archival food project: He draws everything he consumes on yellow paper for one entire year and will exhibit his personal collection of food in an exhibition at
BLOK art space
in 2015. Being well-known in Istanbul by now, the thoughts of the 1976-born performance- and installation artist are not only reminiscent of Daniel Spoerri's food collages, but also of Marco Ferreri's movie "La Grande Bouffe". Even though Marco's approach responds to complex and philosophical ideas, he formulates clear statements and regularly communicates ethic issues through an aesthetically clean formal language. Employing various media and elements from different contexts, Marco's art is a constant experiment of challenging space and time constructions, of perception and of our consciousness.
Mine Kaplangi: You live and work in Bologna. Do you enjoy living in this area?
Marco Di Giovanni: I lived there since I was eighteen, observing the disappearing of all the alternative and anarchic places I was growing up in. I used to love it for the freedom and the mixture of people and attitudes you could find. Imola, the place where I actually live, is a small town 30km from Bologna, where my studio is hidden in a forest near a river.
Mine: Do the political and sociological changes in your surroundings affect your art?
Marco: Affect is a good word, afflict is better. I find it difficult to define art as political or interested in changing society, while it speaks a language so subtle and constipated. For me, it is much more interesting to develop ideas about contemporary society through ancient mythology and also through theoretical physics, which reveals what we are and where we come from.
Mine: Can you give me an example of how you use mythology in your art?
Marco: For example, the work "Ginnungagap" is related to Nordic mythology. It means 'mighty gap' and tells the story of a terrifying chasm, which is the birthplace of the giant YMIR. The story involves a race of the giants, followed by the creation of the current world by the divinities. 'Ginnungagap' is something that comes even before the idea of creation itself. My work consists of many thin paste boards in which I teared a hole. I made so many of them and piled them up into a high sculpture, so that it eventually evoked the sense of an abyss. At the end of the depth a lens on a mirror doubles the deepness of the abyss. When you look inside it, you can see yourself very far away and upside down. This is something like an origin to me.
Mine: In the last years you incorporated the practice of drawing in your installations. Considering your attention to mythology and physics – is there a particular reason for how you choose your material?
Marco: I was a young Steam-Punk when I began to do art and now I am a not-so-young dad with two children. I had to find something to do at home on a table, so that I could simultaneously spend time with my kids. I started to draw for hours with a pencil on the planisphere of Moleskine agendas. For me, those maps are the representation of an idea: The world is an all known space divided in time zones that define time. The print of it is grey and with the right pencil you can add lines mimetically and deconstruct the maps.
Mine: What is your work "Stars like rust" about?
Marco: It is a play on words and refers to Isaac Asimov's novel 'Stars like dust'. His novels' tales often comprise a time span of hundreds of years in an expanded universe; thousands of light years away; where the earth is just a little insignificant planet between millions of others planets, stars and galaxies. It offers a way to escape the concept of space and time as we know it. "Stars like rust" is a round and rusty metal structure with a little hole in the centre, from which you can spy inside its hidden interiority. You will see an amazing view of a clear, starry sky with unknown constellations.
Mine: How is your concern with space and time part your performances?
Marco: During the opening of my last exhibition I did a performance, doing nothing but lying on the floor with my head plugged into a metal tube that seemed to penetrate the wall. I was there with my body – exposed and vulnerable – but at the same time I was so far away that nobody could reach me. That is my way to run away from the trivial conception of space and time, hidden behind everyday life.
Mine: I was going to ask you about the last art exhibition that you really enjoyed, but I assume you find science museums and libraries much more fascinating?
Marco: My first love is literature. Even though I cannot write, I love reading too much. But there is always a narrative aspect in my work – I think all you need to do is to transform your own experience into a shared and a common one. What could be more narrative than the trip that your eyes take to reach the internal vision of the work, even if this occurs inside a pipe or in the combination of many maps? And what can be more narrative than a face – especially if that face is your own – when you realise that you are both the portrait and the spectator.
Mine: What is the last thing you discovered about your art?
Marco: I love to change.
Mine: Do you usually work alone or do you collaborate with other artists?
Marco: I have always collaborated with musicians to let my installations live and sound, shout or whistle. Currently, I am developing projects with Gianluca Favaron. He uses electronic devices and sounds to build undefinable tracks. The first object we did together is a huge rusty amplifier, trembling to loud bass sound that it broadcasts. The sound inside is a track composed by Gianluca, using only the recordings of the object's construction, like clanging metal, bangs or vibrations. The name is 'Heavy-pod', which is somewhat the eternal version of an iPod: it is big and heavy, it has an old fashioned design and keeps on playing the same track.
Mine: Can you tell me something about your food project? What is it about?
Marco: I am doing a project about the notion of surviving – the instinct that concerns everyone up from the day when they are born. The first step to survive is to drink and to eat. This is why, since my birthday in May, I am drawing everything that I ingest and I will continue to do so for an entire year, building a rigorous archive: even a quick coffee in a bar, a candy or medicine. It is a nightmare, but I love it.
Mine: How does the union of art and food eventually come together?
Marco: Once the project is finished I will use all the drawings for an exhibition, which will be similar to a village festival where everything is already eaten by only one person: Me. And it will be terrifically intimate. A bulimic accumulation of signs, illustrations or traces of trademarks. The ethic of food is a major topic today and I am shamelessly exhibiting lots of non-ethic meat, alcohol or junk food. Sort of a hyperrealist panorama of the world I live in. And a self-portrait, too: I am what I eat.
Upcoming exhibition
edible infinite
Mai 2015
Marco di Giovanni is represented by
all works by Marco di Giovanni, from the top: (1,2)"Ymir the loud", (3) "Mjollnir, between the anvil is the hammer", (4) "Notes from the lectures of Professor Richard Feynman", (5-9) food project; copyright and courtesy Marco di Giovanni